Evaluating the Emergency Elevator System in a High-Rise Building
Session: Track G: An Update on Fire Safety & Life Safety Design Award, Part 1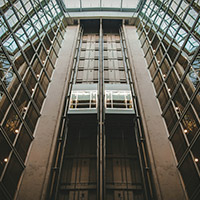 Ervin Cui
Associate Principal, Wiss Janney Elstner Associates
Chicago
Emergency elevators have become a popular means to provide evacuation in high-rise buildings in recent years. The usage of emergency elevators is examined, based on a computer egress modeling analysis on the means of egress system in a building designed in accordance with the Chinese "Code for fire protection design of buildings" (GB50016-2014). The strategies of emergency elevating as required in IBC and Chinese Fire Protection Code are discussed and compared.

In Chinese Fire Protection Code, the exit stairs are required to be transferred at refuge floors; therefore, the chance of smoke blocking an exit stair throughout the entire stair from the bottom to the top is very limited. In this analysis, the total evacuation time of the entire building is simulated in several scenarios. In the first, all exit stairs are available. In the second, one exit stair is blocked on the fire floor. In the third, one exit stair is blocked in the section where the fire floor is located, between two refuge floors. In the fourth, an emergency elevator is operated when one of the stairs is blocked in a building section.

The emergency elevator is assumed to be running between the refuge floors and the ground floor during emergency. Occupants reach the refuge floors through exit stairs. The efficiency of the emergency elevator is analyzed in the egress model.