The Urban Sequoia: Accounting for a Tall Building's Whole-Life Carbon Emissions
Session: Track C: Biophilia and the Green Approach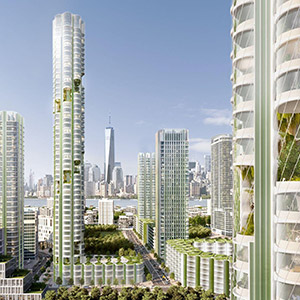 Luke Leung
Principal, Skidmore, Owings & Merrill
Chicago
The world is projected to have 9.8 billion people by 2060, resulted in two times the required built area in existence today. Buildings emit 40 percent of global carbon. The objective of this presentation is to understand how to use whole-life carbon calculations to arrive at zero emissions. Both embodied greenhouse gas (GHG) emissions of tall buildings and building components, as well as building operations, need to be quantified holistically.

To evaluate embodied GHG emissions and sustainability impacts of buildings, and to provide insights on building materials and building design decisions toward decarbonization, a building whole-life carbon analysis is developed to evaluate architecture, structural, MEP, and refrigerant impacts, which are often ignored in previous studies. Results indicate the intensity of tall building embodied carbon increases with height in terms of kilograms per square meter, for both embodied and operational impacts. Sensitivity analysis highlights the positive role of increasing the use of recycled materials in reducing embodied GHG emissions, and also highlights the need to benchmark the embodied and operational carbon performance of buildings for comparison to alternative building designs and sustainability practices.

Embodied carbon and operating carbon should be reviewed together as one: Whole-Life Carbon. As transportation and building operation are both moving towards all-electric power, the embodied carbon piece will be more important, especially in the next 20 to 30 years. Solutions such as the "Urban Sequoia" by SOM will be more important in the future to ratchet down building emissions.