QFH Tower, Shenzhen: Human-Centric, Vertically Amenable and Grounded in the Sky
Session: Track C: Towers and the Challenge of Context: The Future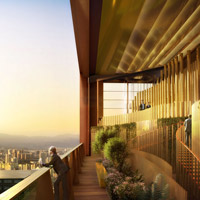 Simon Tonks
Associate Partner, RSHP
London
Qianhai Financial Holdings (QFH) Tower in Shenzhen, China is in harmony with the natural and business environment. Work, sociability and relaxation come together in large social mixing spaces, enhanced and defined by their backdrop, and their landscaping. The cruciform core ensures that there are no darkened corridors, and from lobby to lift to ledge, there is an intuitive wayfinding route. The building is demarcated by a series of pianos nobiles in the sky.

The building is home to three distinct entities, all commanding prime street addresses. There is an unprecedented floating podium, achieved by suspending the entire podium from a series of megatrusses that span between the principle structural elements - cruciform cores and four corner megacolumns. This returns a column-free ground plane to the public, containing retail facilities and amenities. It affords the building tenants an incredible multistory piano nobile reception space. Office space is distributed around panoramic views, vertical gardens, and advanced large-format cladding panels, which are naturally ventilated, weather-controlled, efficient and optimized.

The core has been designed to take 100 percent of the lateral shear, whereas typically this a 75/25 percent split with the external frame. Therefore, the façade takes great advantage of the optimized column sizes and positions, composed of jumbo 4.5-meter-square panels, with panoramic format glazing, and innovative discrete ventilation panels. The building is expected to meet the highest green building standards, and the crown is surrounded by photovoltaics. This surface doubles as a beacon for the skyline, and integrates BMU and rooftop plant, in conjunction with further rooftop amenity space.