High in the Sky, Vibrant on the Ground: Addressing the Public Realm in New Tall Neighborhoods
Session: Track B: The Challenge of Context: Towers and the Creation of Public, Walkable Space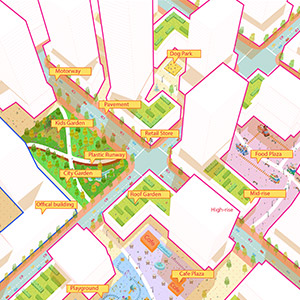 Misha Bereznyak
Architect and Urban Designer, Smart Density
Toronto
Globally, a growing portion of planned large-scale urban development is in the form of tall buildings, and tower neighborhoods are extremely common in urban centers across Asia, Africa, Latin America, and Eastern Europe. These development patterns typically occur in areas central enough to justify intensification, but too peripheral to inherit the vibrancy of pre-established urban environments or justify unique building designs. In response to these realities, the excellence of future tall residential buildings should be measured by their emphasis on creating dynamic neighborhoods that integrate everyday mixed uses and reconcile the need for views and separation with the at-grade experience.

While tower neighborhoods differ greatly in details such as height, they tend to share several characteristics: repetition, checkerboard patterns, low building plot coverage, and overwhelmingly residential uses. As a result, tower neighborhoods are often criticized, and a bias against tall buildings is growing in public and architectural discourse.

A discussion of how planned tall neighborhoods under-consider the public realm is long overdue. Through an overview of these neighborhoods and case studies, design guidelines, and original recommendations, this discussion illustrates how tower neighborhoods can complement the clear advantages of tall buildings with thriving, animated urban environments.