Central Bank of Iraq: An Environmentally Tuned Tall Building
Session: Track C: Towers and the Challenge of Context: Heritage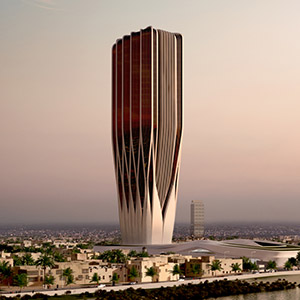 Ricardo Baptista
Design Director, AKT II Limited
London
The Central Bank of Iraq is the new headquarters for the national institution, and a centerpiece in the country's development plans. Taking advantage of its privileged location on the banks of the Tigris River in Baghdad, the 172-meter-tall tower delivers a unique response for the typology based on the local context and function.

This presentation discusses the design approach adopted on this 34-story headquarters tower, which also includes a 200-meter-long landscaped podium, and how it responds to its locality and very specific set of constraints, all intrinsically linked to the building's concept and form. The distinctive structural exoskeleton, narrow and solid at the base, then progressively widening and opening up, is closely intertwined with the building's environmental strategy and its response to the surrounding environment, in how it controls solar gain while maximizing daylight and views on the upper floors.

The building's complex design criteria have also informed its concept - requiring project-specific parametric tools to ensure a holistic design response - with the resulting tall-building typology offering a potential answer to how cities can create more habitable space on dwindling available footprints.