Radical Reuse: Transforming Existing Buildings for a Sustainable Urban Future
Session: C: The New Workplace Experience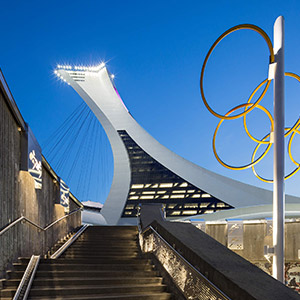 Nicolas Demers-Stoddart
Architect, Partne | Montreal, Canada, Provencher Roy
A sustainable future depends on radically adapting existing buildings for new challenges, needs, and ways of life. According to the U.S. Environmental Protection Agency (EPA), it takes 65 years for a new energy-efficient building to save the amount of energy that is lost in demolishing an existing one. Add to this the International Energy Agency (IEA) estimate that two-thirds of the structures that exist today will be standing in 2040, and it becomes clear that reuse is essential to achieving net-zero.

This presentation explores how Provencher Roy's renovation of the Tour de Montréal approaches radical reuse and transforming heritage structures into productive parts of their cities. Designed by Roger Taillibert, the tower was intended to be an icon of the 1976 Olympic Games. It is inclined at a greater angle than the Leaning Tower of Pisa, and it rises to 165 meters, making it the world's tallest inclined tower and the sixth-tallest structure in Montréal. However, after the tower's completion, it remained largely abandoned, standing as a textbook example of a "white elephant."

In 2015, Provencher Roy was commissioned to re-envision the tower as contemporary offices for 1,500 employees, part of a plan to lease it to Desjardins Group, a leading financial institution, and bring new life to the forgotten landmark. The architects stripped away 60 percent of the original façade, replacing it with a curtain wall, and created a three-dimensional model using laser-scanning surveys and point clouds to resolve the complex facade geometries. Inside, the idiosyncratic floor plates are transformed into offices to support Desjardin Group's operations. Now a productive part of the community, the tower has regained its rightful place as an icon of the city's ingenuity, cultural legacy, and collective identity.