The World's Next Tallest Timber Building
Session: E: Tall Timber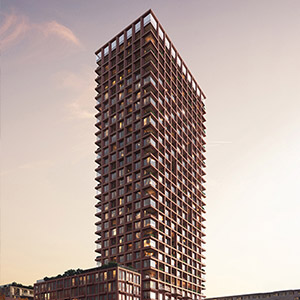 Kristian Ahlmark
Partner/ Design Director, Copenhagen, Schmidt Hammer Lassen Architects
Schmidt Hammer Lassen (SHL) Architects has been tasked with designing the world's tallest residential timber building. The project, with the working title Rocket&Tigerli, revives an industrial neighborhood outside Zürich, Switzerland and creates a lively local environment through buildings with unparalleled natural light conditions.

This project marks a new era for wood construction, a newly-developed technology that is crucial for the 100-meter-tall tower. Swiss Construction and real estate service provider Implenia have collaborated with the Technical University of Zurich to innovate a system that replaces concrete elements in bearing structures with wood. This results in weight reduction and more efficient energy use.

The architecture of Rocket&Tigerli will celebrate this new construction system, where elements of the bearing structure are visible to the users, to make them feel like a part of the structure itself. The project is exceptional in its tactile approach. Deep reds and yellows are implemented in the façade to reflect the historical surroundings. Previous industrial fixtures of the area such as railroads, workshops and factories will remain intact as a framework around this truly unique building.

The mixed-use development will encompass private and student housing, restaurants, retail, a hotel, spa facilities and a sky-bar. This wide array of functions will bring renewed pedestrian life to the buildings and its surrounding green spaces, establishing the wooden tower as a world-class landmark.