Urban Regeneration with Low-Impact Construction: De Karel Doorman, Rotterdam
Session: Track B: Urban Habitat Award: Single Site & 10 Year Award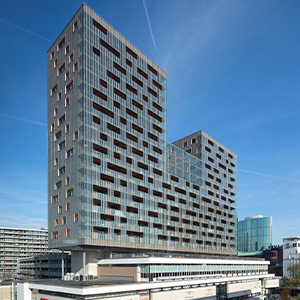 Maurice Hermens
Leading Professional Structural Design Buildings, Royal HaskoningDHV
Rotterdam
Marc Ibelings
Principal, Ibelings van Tilburg Architecten
Rotterdam
In the heart of Rotterdam's shopping area, the De Karel Doorman is a remarkable combination of restoration and new development. On top of the Ter Meulen shopping centre - a monument of the post-war reconstruction period – it is built in an extremely light-weight construction of steel and wood. This unconventional building method enabled the construction of a 70.5 meter (231 ft) high 'glass' residential building with 114 apartments and 156 parking places.

The Ter Meulen building was constructed in 1948, and its large expanses of glass gave the building an exceptional transparency. Fifty years later, the building was languishing and ready for demolition. Instead, the old building was restored to its former glory and 'topped' with new homes. In this way an important architectural monument was preserved, as well as contributed to the repopulation of the city center, that until then was dominated by office buildings and shops. In addition, De Karel Doorman has become a point of reference for its low-impact construction method, which eliminated the need for a large building site, which is a considerable advantage in the city center.

In recent years, the increasing availability of housing in the city center has considerably improved the quality of life in the area. The building has become an inspiration for the construction of lightweight high-rise buildings using wood, a construction method which is extremely suited to the realization of urban intensification projects in a city like Rotterdam, and doing so in a sustainable way.
View Building Information on CTBUH.org