Urban Porosity through Public Platforms: EDGE, Shanghai
Session: Track F, Session 3: Best Tall Building Award By Function: Mixed Use, Part 2 & Interior Design Award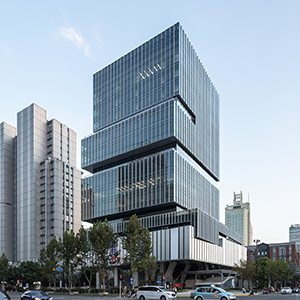 Rick Mao
General Manager, K.WAH
Wei Li
Executive Director, Aedas
The project site is located near the riverbank of Suzhou Creek, an area that historically relied on convenient water traffic that built the concentration of industrial plants and warehouses in the area. The entire area has been incorporated as part of an urban regeneration scheme. The intention for this project was to make it a regional gateway, with office and workspace to attract corporations around the world while having a vivid urban interface.

Based on the extremely high density of Shanghai's urban center, the concept of a "3D public platform" was proposed. Two platforms were designed, one on the ground floor and the other at 24 meters high that are connected by escalators which open up to the city. The whole building is naturally cut into several blocks vertically, and the staggered form also satisfies strict setback requirements.

Besides meeting functional and development demands, the design pays attention to how contemporary architecture can better integrate into the city and achieve the porosity of an urban interface at more dimensions. An intent in the design was to create more places for public activities. More than 2,000 square meters of urban public space is provided, mainly under an overhanging volume that becomes the protected grey space for activities in various weather conditions. In addition, outdoor elevators provided will bring people from ground floor to the building spaces above. It operates 24 hours per day, making the public space continuously accessible.
View Building Information on CTBUH.org