Building Revival from Energy Efficient Features and Prismatic Glass: De Castillia 23
Session: Track A: Best Tall Building Award: Under 100m Part 1, 400m+ Part 1 & Non-building, Part 1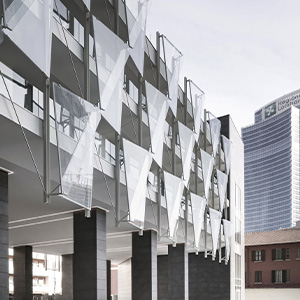 Massimiliano Morrone
Head of Real Estate Asset, Investment & Technical Management, Unipol Group
Bologna
Massimo Roj
Founder and CEO, Progetto CMR
Milan
De Castillia 23, gives life to a building that was left unfinished for many years. Located in Isola, one of the most well-known districts in Milan, I it was originally isolated from the rest of the city. However, the site is now in a highly convenient and coveted position, close to subway and rail stations, and near the new central business district with its high-rise buildings that have completely changed the area over the past 10 years.

A unique element of the project is its prismatic glass façade, intended to be dynamic and elegant, and in dialogue with the surrounding context. By wrapping the exterior in a glass and steel fabric, the idea was to give a fresh and contemporary look to the building that was also unconventional. The façade recalls the compositional themes of Milanese façades in the immediate post-war period.

The first two floors above ground—which were previously used as parking lots—were transformed into offices. The building was opened to create a connection between public and private, between the interior and the city. A double-height lobby reinforces the character of the building as a completely permeable environment, along with use of colors and materials that blend the two spaces.

Sustainability and environmental considerations guided the entire project. Part of the building's external stoneware surfaces was covered with a titanium dioxide coating, an innovation that actively reduces air pollution by generating a photocatalytic process that allows the dissolution of pollutants that absorbs about 36 kg of nitrogen oxides annually.
View Building Information on CTBUH.org